Standard Waveguide Straight Sections 
導波管の直線部分には、長方形または円形の導波管があります。
以下のモデルは、18〜170 GHzの周波数範囲をカバーし、1インチと2インチの長さで提供されます。
リストされたモデルに加えて、異なる長さの導波管ストレートセクションもリクエストできます。
標準モデルは商用グレードですが、計装グレードの導波管も利用できます。

Waveguide straight sections are offered with either rectangular or circular waveguides. The below models cover the frequency range of 18 to 170 GHz and are offered with 1 and 2" lengths. In addition to the listed models, waveguide straight sections can also be requested for different lengths. While the standard models are commercial grade, instrumentation grade waveguides are also available.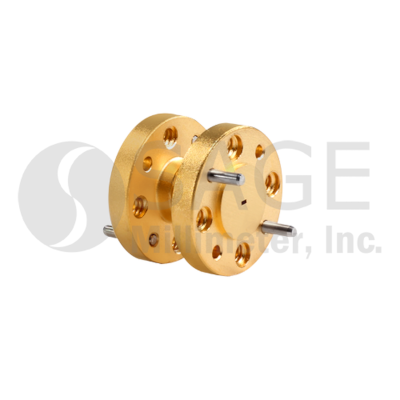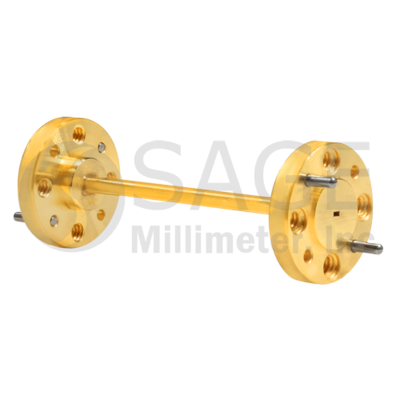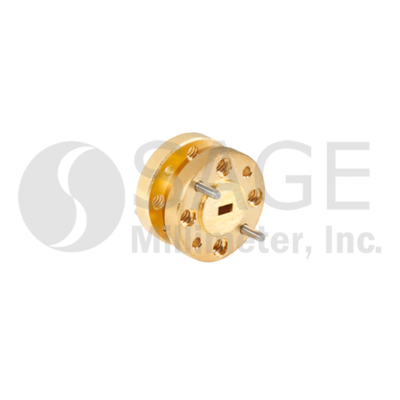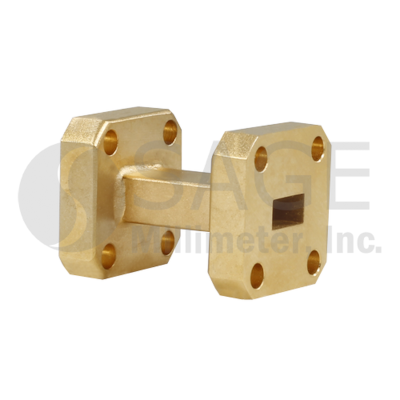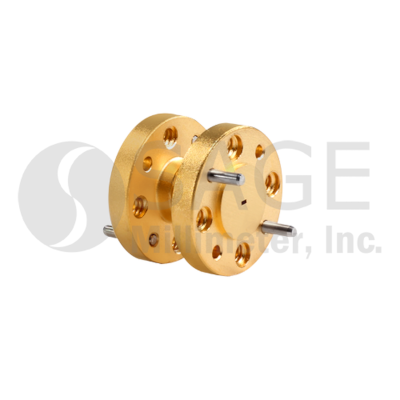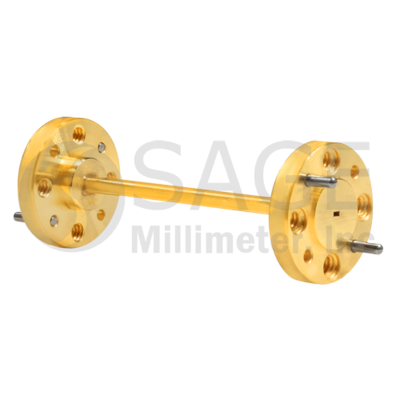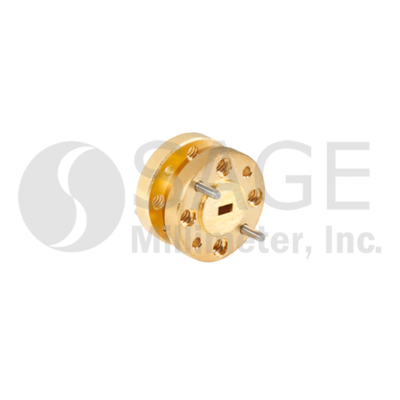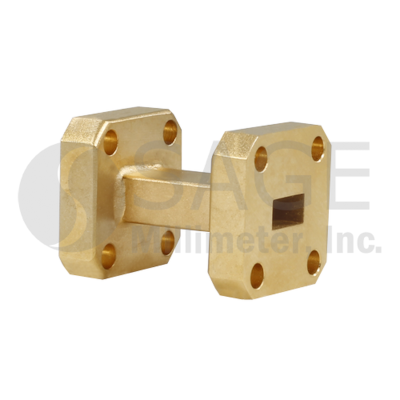 製品仕様 
Product Specifications
| Model | Data sheet | Minimum Frequency [GHz] | Maximum Frequency [GHz] | Waveguide Size | Insertion Length |
| --- | --- | --- | --- | --- | --- |
| SWG-03005-FB | | 220 | 325 | WR-03 Waveguide | 0.5" |
| SWG-03010-FB | | 220 | 325 | WR-03 Waveguide | 1" |
| SWG-03013-FB-1.25 | | 220 | 325 | WR-03 Waveguide | 1.25" |
| SWG-03015-FB | | 220 | 325 | WR-03 Waveguide | 1.5" |
| SWG-03020-FB | | 220 | 325 | WR-03 Waveguide | 2" |
| SWG-03023-FB-2.25 | | 220 | 325 | WR-03 Waveguide | 2.25" |
| SWG-03025-FB | | 220 | 325 | WR-03 Waveguide | 2.5" |
| SWG-03030-FB | | 220 | 325 | WR-03 Waveguide | 3" |
| SWG-03040-FB | | 220 | 325 | WR-03 Waveguide | 4" |
| SWG-04005-FB | | 170 | 260 | WR-04 Waveguide | 0.5" |
| SWG-04010-FB | | 170 | 260 | WR-04 Waveguide | 1" |
| SWG-04013-FB-1.25 | | 170 | 260 | WR-04 Waveguide | 1.25" |
| SWG-04015-FB | | 170 | 260 | WR-04 Waveguide | 1.5" |
| SWG-04020-FB | | 170 | 260 | WR-04 Waveguide | 2" |
| SWG-05005-FB | | 140 | 220 | WR-05 Waveguide | 0.5" |
| SWG-05010-FB | | 140 | 220 | WR-05 Waveguide | 1" |
| SWG-05013-FB-1.25 | | 140 | 220 | WR-05 Waveguide | 1.25" |
| SWG-05015-FB | | 140 | 220 | WR-05 Waveguide | 1.5" |
| SWG-05020-FB | | 140 | 220 | WR-05 Waveguide | 2" |
| SWG-05023-FB-2.25 | | 140 | 220 | WR-05 Waveguide | 2.25" |
| SWG-05025-FB | | 140 | 220 | WR-05 Waveguide | 2.5" |
| SWG-05030-FB | | 140 | 220 | WR-05 Waveguide | 3" |
| SWG-05040-FB | | 140 | 220 | WR-05 Waveguide | 4" |
| SWG-06005-FB | | 110 | 170 | WR-06 Waveguide | 0.5" |
| SWG-06010-FB | | 110 | 170 | WR-06 Waveguide | 1" |
| SWG-06013-FB-1.25 | | 110 | 170 | WR-06 Waveguide | 1.25" |
| SWG-06015-FB | | 110 | 170 | WR-06 Waveguide | 1.5" |
| SWG-06020-FB | | 110 | 170 | WR-06 Waveguide | 2" |
| SWG-06023-FB-2.25 | | 110 | 170 | WR-06 Waveguide | 2.25" |
| SWG-06025-FB | | 110 | 170 | WR-06 Waveguide | 2.5" |
| SWG-06030-FB | | 110 | 170 | WR-06 Waveguide | 3" |
| SWG-06040-FB | | 110 | 170 | WR-06 Waveguide | 4" |
| SWG-08005-FB | | 90 | 140 | WR-08 Waveguide | 0.5" |
| SWG-08010-FB | | 90 | 140 | WR-08 Waveguide | 1" |
| SWG-08013-FB-1.25 | | 90 | 140 | WR-08 Waveguide | 1.25" |
| SWG-08015-FB | | 90 | 140 | WR-08 Waveguide | 1.5" |
| SWG-08020-FB | | 90 | 140 | WR-08 Waveguide | 2" |
| SWG-08023-FB-2.25 | | 90 | 140 | WR-08 Waveguide | 2.25" |
| SWG-08025-FB | | 90 | 140 | WR-08 Waveguide | 2.5" |
| SWG-08030-FB | | 90 | 140 | WR-08 Waveguide | 3" |
| SWG-08040-FB | | 90 | 140 | WR-08 Waveguide | 4" |
| SWG-10005-FB | | 75 | 110 | WR-10 Waveguide | 0.5" |
| SWG-10010-FB | | 75 | 110 | WR-10 Waveguide | 1" |
| SWG-10013-FB-1.25 | | 75 | 110 | WR-10 Waveguide | 1.25" |
| SWG-10015-FB | | 75 | 110 | WR-10 Waveguide | 1.5" |
| SWG-10020-FB | | 75 | 110 | WR-10 Waveguide | 2" |
| SWG-10023-FB-2.25 | | 75 | 110 | WR-10 Waveguide | 2.25" |
| SWG-10025-FB | | 75 | 110 | WR-10 Waveguide | 2.5" |
| SWG-10030-FB | | 75 | 110 | WR-10 Waveguide | 3" |
| SWG-10040-FB | | 75 | 110 | WR-10 Waveguide | 4" |
| SWG-12005-FB | | 60 | 90 | WR-12 Waveguide | 0.5" |
| SWG-12010-FB | | 60 | 90 | WR-12 Waveguide | 1" |
| SWG-12013-FB-1.25 | | 60 | 90 | WR-12 Waveguide | 1.25" |
| SWG-12015-FB | | 60 | 90 | WR-12 Waveguide | 1.5" |
| SWG-12020-FB | | 60 | 90 | WR-12 Waveguide | 2" |
| SWG-12023-FB-2.25 | | 60 | 90 | WR-12 Waveguide | 2.25" |
| SWG-12025-FB | | 60 | 90 | WR-12 Waveguide | 2.5" |
| SWG-12030-FB | | 60 | 90 | WR-12 Waveguide | 3" |
| SWG-12040-FB | | 60 | 90 | WR-12 Waveguide | 4" |
| SWG-15005-FB | | 50 | 75 | WR-15 Waveguide | 0.5" |
| SWG-15010-FB | | 50 | 75 | WR-15 Waveguide | 1" |
| SWG-15013-FB-1.25 | | 50 | 75 | WR-15 Waveguide | 1.25" |
| SWG-15015-FB | | 50 | 75 | WR-15 Waveguide | 1.5" |
| SWG-15020-FB | | 50 | 75 | WR-15 Waveguide | 2" |
| SWG-15023-FB-2.25 | | 50 | 75 | WR-15 Waveguide | 2.25" |
| SWG-15025-FB | | 50 | 75 | WR-15 Waveguide | 2.5" |
| SWG-15030-FB | | 50 | 75 | WR-15 Waveguide | 3" |
| SWG-15040-FB | | 50 | 75 | WR-15 Waveguide | 4" |
| SWG-19005-FB | | 40 | 60 | WR-19 Waveguide | 0.5" |
| SWG-19010-FB | | 40 | 60 | WR-19 Waveguide | 1" |
| SWG-19013-FB-1.25 | | 40 | 60 | WR-19 Waveguide | 1.25" |
| SWG-19015-FB | | 40 | 60 | WR-19 Waveguide | 1.5" |
| SWG-19020-FB | | 40 | 60 | WR-19 Waveguide | 2" |
| SWG-19023-FB-2.25 | | 40 | 60 | WR-19 Waveguide | 2.25" |
| SWG-19025-FB | | 40 | 60 | WR-19 Waveguide | 2.5" |
| SWG-19030-FB | | 40 | 60 | WR-19 Waveguide | 3" |
| SWG-19040-FB | | 40 | 60 | WR-19 Waveguide | 4" |
| SWG-22005-FB | | 33 | 50 | WR-22 Waveguide | 0.5" |
| SWG-22010-FB | | 33 | 50 | WR-22 Waveguide | 1" |
| SWG-22013-FB-1.25 | | 33 | 50 | WR-22 Waveguide | 1.25" |
| SWG-22015-FB | | 33 | 50 | WR-22 Waveguide | 1.5" |
| SWG-22020-FB | | 33 | 50 | WR-22 Waveguide | 2" |
| SWG-22023-FB-2.25 | | 33 | 50 | WR-22 Waveguide | 2.25" |
| SWG-22025-FB | | 33 | 50 | WR-22 Waveguide | 2.5" |
| SWG-22030-FB | | 33 | 50 | WR-22 Waveguide | 3" |
| SWG-22040-FB | | 33 | 50 | WR-22 Waveguide | 4" |
| SWG-28005-FB | | 26.5 | 40 | WR-28 Waveguide | 0.5" |
| SWG-28010-FB | | 26.5 | 40 | WR-28 Waveguide | 1" |
| SWG-28013-FB-1.25 | | 26.5 | 40 | WR-28 Waveguide | 1.25" |
| SWG-28015-FB | | 26.5 | 40 | WR-28 Waveguide | 1.5" |
| SWG-28020-FB | | 26.5 | 40 | WR-28 Waveguide | 2" |
| SWG-28023-FB-2.25 | | 26.5 | 40 | WR-28 Waveguide | 2.25" |
| SWG-28025-FB | | 26.5 | 40 | WR-28 Waveguide | 2.5" |
| SWG-28030-FB | | 26.5 | 40 | WR-28 Waveguide | 3" |
| SWG-28040-FB | | 26.5 | 40 | WR-28 Waveguide | 4" |
| SWG-34005-FB | | 22 | 33 | WR-34 Waveguide | 0.5" |
| SWG-34010-FB | | 22 | 33 | WR-34 Waveguide | 1" |
| SWG-34013-FB-1.25 | | 22 | 33 | WR-34 Waveguide | 1.25" |
| SWG-34015-FB | | 22 | 33 | WR-34 Waveguide | 1.5" |
| SWG-34020-FB | | 22 | 33 | WR-34 Waveguide | 2" |
入力例
マイクロ波デバイス / アンプ / フィルタ / ミキサ / マイクロ波&ミリ波部品 / プロ―プ / 薄膜技術 / 超高速通信
/ マイクロエレクトロニクス / ソフトウェア
お問い合わせからアフターフォローまで一貫して当社にお任せ下さい。