End Launch Waveguide to Coax Adapters 
導波管から同軸アダプタへの変換により、矩形導波管と同軸コネクタ間の効率的な移行が可能になります。
さまざまな導波管バンドに対して、直角とエンドランチ(インライン)の2つの機械的構成が提供されています。
これらのアダプターは、計装グレードの品質のために設計および製造されていますが、商用価格レベルで提供されています。
これらのアダプターは、優れたRF性能(つまり、低挿入損失と低VSWR)を実現します。
アダプタはフルバンドアプリケーション向けに設計および製造されていますが、特定の同軸コネクタタイプのパフォーマンス制限により、周波数範囲の上限でパフォーマンスの低下が観察される場合があります。 導波管と同軸コネクタタイプの多くの可能な組み合わせのため、カスタムモデルが利用可能です。

Waveguide to coax adapters allow for an efficient transition between the rectangular waveguide and coax connector. Two mechanical configurations, a right angle and an end launch (in-line), are offered for various waveguide bands. These adapters are designed and manufactured for instrumentation grade quality, but offered at a commercial price level. These adapters deliver superior RF performance (i.e., low insertion loss and low VSWR). While the adapters are designed and manufactured for full band applications, performance degradation may be observed at the higher end of the frequency range due to the performance limitation of certain coax connector types. Because of the numerous possible combinations of waveguide and coax connector types custom models are available.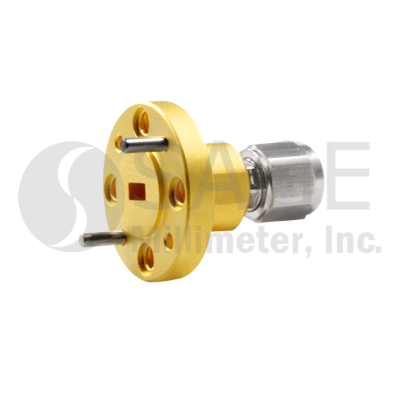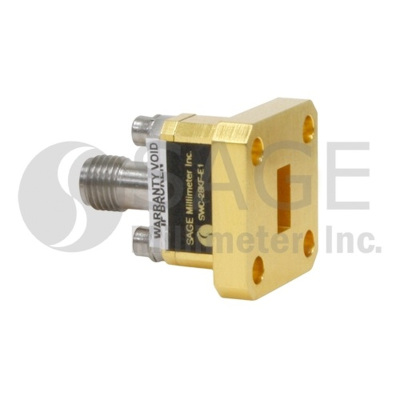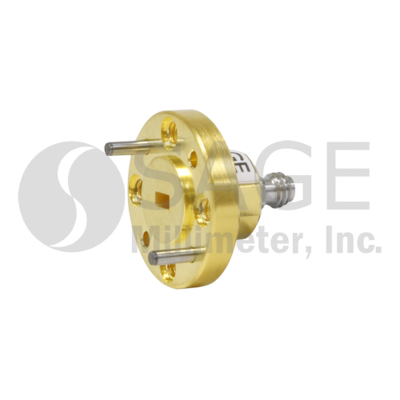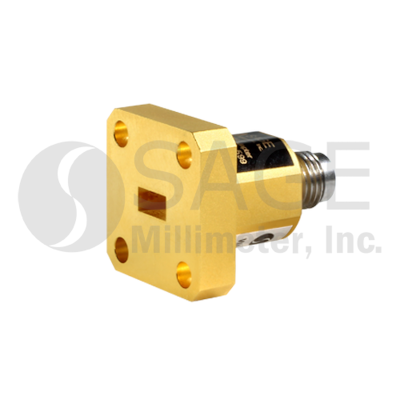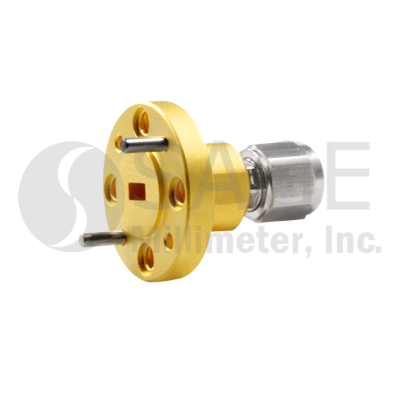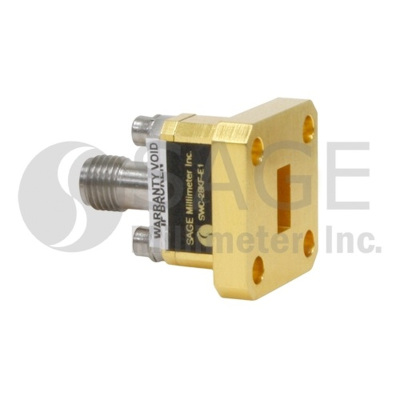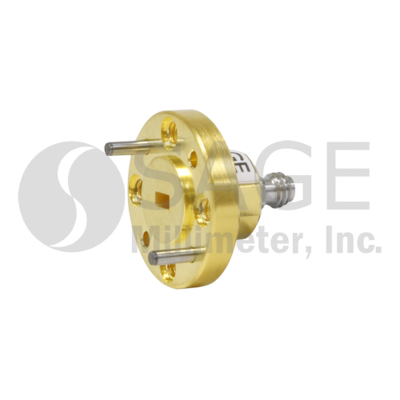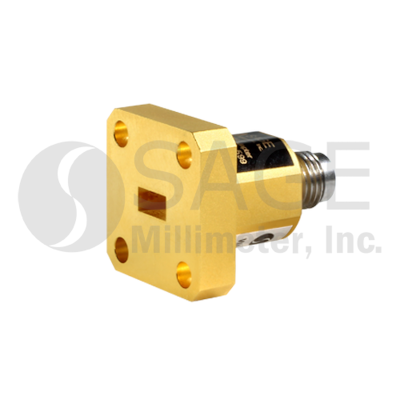 製品仕様 
Product Specifications
| Model Number | Data sheet | Minimum Frequency | Maximum Frequency | Insertion Loss | Return Loss | Power Handling | Waveguide Port | Coax Type | Coax Gender | Configuration |
| --- | --- | --- | --- | --- | --- | --- | --- | --- | --- | --- |
| SWC-081F-E1 | | 90 GHz | 125 GHz | 1.0 dB | 14 dB | 5 W Max | WR-08 Waveguide | 1 mm | Female | End Launch (180°) |
| SWC-081M-E1 | | 90 GHz | 125 GHz | 1.0 dB | 14 dB | 5 W Max | WR-08 Waveguide | 1 mm | Male | End Launch (180°) |
| SWC-101F-E1 | | 75 GHz | 110 GHz | 1.20 dB | 15 dB | 10 W | WR-10 Waveguide | 1 mm | Female | End Launch (180°) |
| SWC-101F-E1-V | | 75 GHz | 110 GHz | 1.20 dB | 15 dB | 10 W | WR-10 Waveguide | 1 mm | Female | End Launch (180°) |
| SWC-101M-E1 | | 75 GHz | 110 GHz | 1.20 dB | 15 dB | 10 W | WR-10 Waveguide | 1 mm | Male | End Launch (180°) |
| SWC-101M-E1-V | | 75 GHz | 110 GHz | 1.20 dB | 15 dB | 10 W | WR-10 Waveguide | 1 mm | Male | End Launch (180°) |
| SWC-112NF-E7 | | 7 GHz | 10 GHz | 0.2 dB | 20 dB | 150 W | WR-112 Waveguide | N | Female | End Launch (180°) |
| SWC-112NM-E7 | | 7 GHz | 10 GHz | 0.2 dB | 20 dB | 150 W | WR-112 Waveguide | N | Male | End Launch (180°) |
| SWC-12EF-E1 | | 60 GHz | 90 GHz | 1.2 dB | 15 dB | 20 W | WR-12 Waveguide | E (1.35 mm) | Female | End Launch (180°) |
| SWC-12EM-E1 | | 60 GHz | 90 GHz | 1.2 dB | 15 dB | 20 W | WR-12 Waveguide | E (1.35 mm) | Male | End Launch (180°) |
| SWC-12VF-E1 | | 60 GHz | 72 GHz | 0.80 dB | 14 dB | 10 W (CW) | WR-12 Waveguide | 1.85 mm | Female | End Launch (180°) |
| SWC-12VM-E1 | | 60 GHz | 72 GHz | 0.80 dB | 14 dB | 10 W (CW) | WR-12 Waveguide | 1.85 mm | Male | End Launch (180°) |
| SWC-121F-E1 | | 60 GHz | 90 GHz | 1.0 dB | 15 dB | 10 W | WR-12 Waveguide | 1 mm | Female | End Launch (180°) |
| SWC-121M-E1 | | 60 GHz | 90 GHz | 1.0 dB | 15 dB | 10 W | WR-12 Waveguide | 1 mm | Male | End Launch (180°) |
| SWC-151F-E1-V | | 50 GHz | 75 GHz | 0.7 dB | 15 dB | 10 W | WR-15 Waveguide | 1.0 mm | Female | End Launch (180°) |
| SWC-151M-E1-V | | 50 GHz | 75 GHz | 0.7 dB | 15 dB | 10 W | WR-15 Waveguide | 1.0 mm | Male | End Launch (180°) |
| SWC-15EF-E1 | | 50 GHz | 75 GHz | 0.5 dB | 15 dB | 10 W | WR-15 Waveguide | E (1.35 mm) | Female | End Launch (180°) |
| SWC-15EM-E1 | | 50 GHz | 75 GHz | 0.5 dB | 15 dB | 10 W | WR-15 Waveguide | E (1.35 mm) | Male | End Launch (180°) |
| SWC-151F-E1 | | 50 GHz | 75 GHz | 0.70 dB | 15 dB | 10 W | WR-15 Waveguide | 1 mm | Female | End Launch (180°) |
| SWC-151M-E1 | | 50 GHz | 75 GHz | 0.70 dB | 15 dB | 10 W | WR-15 Waveguide | 1 mm | Male | End Launch (180°) |
| SWC-15VF-E1 | | 50 GHz | 70 GHz | 0.40 dB | - | 40 W | WR-15 Waveguide | V (1.85 mm) | Female | End Launch (180°) |
| SWC-15VF-E1-V | | 50 GHz | 70 GHz | 0.70 dB | 16 dB | 40 W | WR-15 Waveguide | V (1.85 mm) | Female | End Launch (180°) |
| SWC-15VF-E1-A | | 50 GHz | 70 GHz | 0.70 dB | 16 dB | 40 W | WR-15 Waveguide | V (1.85 mm) | Female | End Launch (180°) |
| SWC-15VM-E1 | | 50 GHz | 70 GHz | 0.40 dB | - | 40 W | WR-15 Waveguide | V (1.85 mm) | Male | End Launch (180°) |
| SWC-15VM-E1-V | | 50 GHz | 70 GHz | 0.7 dB | 16 dB | 40 W | WR-15 Waveguide | V (1.85 mm) | Male | End Launch (180°) |
| SWC-15VM-E1-A | | 50 GHz | 70 GHz | 0.70 dB | 16 dB | 40 W | WR-15 Waveguide | V (1.85 mm) | Male | End Launch (180°) |
| SWC-15VF-E1-RL20 | | 50 GHz | 70 GHz | 0.4 dB | 20 dB Min | 40 W | WR-15 Waveguide | V (1.85 mm) | Female | End Launch (180°) |
| SWC-191F-E1 | | 40 GHz | 60 GHz | 0.6 dB | 15 dB | 40 W Max | WR-19 Waveguide | 1 mm | Female | End Launch (180°) |
| SWC-191M-E1 | | 40 GHz | 60 GHz | 0.6 dB | 15 dB | 40 W | WR-19 Waveguide | 1 mm | Male | End Launch (180°) |
| SWC-192F-E1 | | 40 GHz | 50 GHz | 0.5 dB | 18 dB | 40 W | WR-19 Waveguide | 2.4 mm | Female | End Launch (180°) |
| SWC-192M-E1 | | 40 GHz | 50 GHz | 0.5 dB | 18 dB | 40 W | WR-19 Waveguide | 2.4 mm | Male | End Launch (180°) |
| SWC-19VF-E1 | | 40 GHz | 60 GHz | 0.5 dB | 18 dB | 40 W | WR-19 Waveguide | V (1.85 mm) | Female | End Launch (180°) |
| SWC-19VF-E1-RL22 | | 40 GHz | 60 GHz | 0.35 dB | 22 dB | 40 W | WR-19 Waveguide | V (1.85 mm) | Female | End Launch (180°) |
| SWC-19VM-E1 | | 40 GHz | 60 GHz | 0.5 dB | 18 dB | 40 W | WR-19 Waveguide | V (1.85 mm) | Male | End Launch (180°) |
| SWC-19VM-E1-RL22 | | 40 GHz | 60 GHz | 0.35 dB | 22 dB | 40 W | WR-19 Waveguide | V (1.85 mm) | Male | End Launch (180°) |
| SWC-22VF-E1 | | 33 GHz | 50 GHz | 0.40 dB | 18 dB | 40 W | WR-22 Waveguide | V (1.85 mm) | Female | End Launch (180°) |
| SWC-22VF-E1-V | | 33 GHz | 50 GHz | 0.4 dB | 18 dB | 40 W | WR-22 Waveguide | 1.85 mm (V) | Male | End Launch (180°) |
| SWC-22VM-E1 | | 33 GHz | 50 GHz | 0.4 dB | 18 dB | 40 W | WR-22 Waveguide | V (1.85 mm) | Male | End Launch (180°) |
| SWC-22VM-E1-V | | 33 GHz | 50 GHz | 0.4 dB | 18 dB | 40 W | WR-22 Waveguide | 1.85 mm (V) | Male | End Launch (180°) |
| SWC-222F-E1 | | 33 GHz | 50 GHz | 0.40 dB | 18 dB | 40 W | WR-22 Waveguide | 2.4 mm | Female | End Launch (180°) |
| SWC-222F-E1-RL15 | | 33 GHz | 50 GHz | 0.60 dB | 15 dB | 40 W | WR-22 Waveguide | 2.4 mm | Female | End Launch (180°) |
| SWC-222F-E1-599 | | 33 GHz | 50 GHz | 0.40 dB | 18 dB | 40 W | WR-22 Waveguide | 2.4 mm | Female | End Launch (180°) |
| SWC-222M-E1 | | 33 GHz | 50 GHz | 0.40 dB | 18 dB | 40 W | WR-22 Waveguide | 2.4 mm | Male | End Launch (180°) |
| SWC-222M-E1-RL15 | | 33 GHz | 50 GHz | 0.60 dB | 15 dB | 40 W | WR-22 Waveguide | 2.4 mm | Male | End Launch (180°) |
| SWC-222M-E1-599 | | 33 GHz | 50 GHz | 0.40 dB | 18 dB | 40 W | WR-22 Waveguide | 2.4 mm | Male | End Launch (180°) |
| SWC-222F-E1-RL22 | | 33 GHz | 50 GHz | 0.30 dB | 22 dB | 40 W | WR-22 Waveguide | 2.4 mm | Female | End Launch (180°) |
| SWC-222M-E1-RL22 | | 33 GHz | 50 GHz | 0.3 dB | 22 dB | 40 W | WR-22 Waveguide | 2.4 mm | Male | End Launch (180°) |
| SWC-22KF-E1-V | | 33 GHz | 43 GHz | 0.40 dB | 18 dB | 50 W | WR-22 Waveguide | K (2.92 mm) | Female | End Launch (180°) |
| SWC-22KM-E1-V | | 33 GHz | 43 GHz | 0.40 dB | 18 dB | 50 W | WR-22 Waveguide | K (2.92 mm) | Male | End Launch (180°) |
| SWC-22KF-E1 | | 33 GHz | 40 GHz | 0.40 dB | 18 dB | 50 W | WR-22 Waveguide | K (2.92 mm) | Female | End Launch (180°) |
| SWC-22KM-E1 | | 33 GHz | 40 GHz | 0.40 dB | 18 dB | 50 W | WR-22 Waveguide | K (2.92 mm) | Male | End Launch (180°) |
| SWC-282F-E1 | | 26.5 GHz | 40 GHz | 0.35 dB | 20 dB | 40 W | WR-28 Waveguide | 2.4 mm | Female | End Launch (180°) |
| SWC-282M-E1 | | 26.5 GHz | 40 GHz | 0.35 dB | 20 dB | 40 W | WR-28 Waveguide | 2.4 mm | Male | End Launch (180°) |
| SWC-28KF-E1-T | | 26.5 GHz | 40 GHz | 0.35 dB | 20 dB | 50 W | WR-28 Waveguide | K (2.92 mm) | Female | End Launch (180°) |
| SWC-28KF-E1-U320 | | 26.5 GHz | 40 GHz | 0.35 dB | 20 dB | 50 W | WR-28 Waveguide with Non-Standard U320 Flange | K (2.92 mm) | Female | End Launch (180°) |
| SWC-28KM-E1-T | | 26.5 GHz | 40 GHz | 0.35 dB | 20 dB | 50 W | WR-28 Waveguide | K (2.92 mm) | Male | End Launch (180°) |
| SWC-28KM-E1-U320 | | 26.5 GHz | 40 GHz | 0.35 dB | 20 dB | 50 W | WR-28 Waveguide with Non-Standard U320 Flange | K (2.92 mm) | Male | End Launch (180°) |
| SWC-28KF-E1 | | 26.5 GHz | 40 GHz | 0.35 dB | 20 dB | 20 W | WR-28 Waveguide | K (2.92 mm) | Female | End Launch (180°) |
| SWC-28KF-E1-V | | 26.5 GHz | 40 GHz | 0.35 dB | 20 dB | 50 W | WR-28 Waveguide | K (2.92 mm) | Female | End Launch (180°) |
| SWC-28KM-E1 | | 26.5 GHz | 40 GHz | 0.35 dB | 20 dB | 20 W | WR-28 Waveguide | K (2.92 mm) | Male | End Launch (180°) |
| SWC-28KM-E1-V | | 26.5 GHz | 40 GHz | 0.35 dB | 20 dB | 50 W | WR-28 Waveguide | K (2.92 mm) | Male | End Launch (180°) |
| SWC-28VF-E1 | | 26.5 GHz | 40 GHz | 0.35 dB | 20 dB | 15 W | WR-28 Waveguide | V (1.85 mm) | Female | End Launch (180°) |
| SWC-28VM-E1 | | 26.5 GHz | 40 GHz | 0.35 dB | 20 dB | 15 W | WR-28 Waveguide | V (1.85 mm) | Male | End Launch (180°) |
| SWC-342F-E1 | | 22 GHz | 33 GHz | 0.35 dB | 20 dB | 50 W | WR-34 Waveguide | 2.4 mm | Female | End Launch (180°) |
| SWC-342M-E1 | | 22 GHz | 33 GHz | 0.35 dB | 20 dB | 50 W | WR-34 Waveguide | 2.4 mm | Male | End Launch (180°) |
| SWC-34KF-E1 | | 22 GHz | 33 GHz | 0.35 dB | 20 dB | 50 W | WR-34 Waveguide | K (2.92 mm) | Female | End Launch (180°) |
| SWC-34KM-E1 | | 22 GHz | 33 GHz | 0.35 dB | 20 dB | 50 W | WR-34 Waveguide | K (2.92 mm) | Male | End Launch (180°) |
| SWC-422F-E1 | | 18 GHz | 26.5 GHz | 0.3 dB | 20 dB | 50 W (CW) | WR-42 Waveguide | 2.4 mm | Female | End Launch (180°) |
| SWC-422M-E1 | | 18 GHz | 26.5 GHz | 0.3 dB | 20 dB | 50 W (CW) | WR-42 Waveguide | 2.4 mm | Male | End Launch (180°) |
| SWC-42KF-E1-U220 | | 18 GHz | 26.5 GHz | 0.30 dB | 20 dB | 50 W | WR-42 Waveguide with Non-Standard UBR220 Flange | K (2.92 mm) | Female | End Launch (180°) |
| SWC-42KM-E1-U220 | | 18 GHz | 26.5 GHz | 0.30 dB | 20 dB | 50 W | WR-42 Waveguide with Non-Standard UBR220 Flange | K (2.92 mm) | Male | End Launch (180°) |
| SWC-42KF-E1 | | 18 GHz | 26.5 GHz | 0.3 dB | 20 dB | 50 W | WR-42 Waveguide | K (2.92 mm) | Female | End Launch (180°) |
| SWC-42KF-E1-V | | 18 GHz | 26.5 GHz | 0.30 dB | 20 dB | 50 W | WR-42 Waveguide | K (2.92 mm) | Female | End Launch (180°) |
| SWC-42KM-E1 | | 18 GHz | 26.5 GHz | 0.3 dB | 20 dB | 50 W | WR-42 Waveguide | K (2.92 mm) | Male | End Launch (180°) |
| SWC-42KM-E1-V | | 18 GHz | 26.5 GHz | 0.30 dB | 20 dB | 50 W | WR-42 Waveguide | K (2.92 mm) | Male | End Launch (180°) |
| SWC-42SF-E1 | | 18 GHz | 26.5 GHz | 0.3 dB | 17 dB | 50 W | WR-42 Waveguide | SMA | Female | End Launch (180°) |
| SWC-42SM-E1 | | 18 GHz | 26.5 GHz | 0.3 dB | 17 dB | 50 W | WR-42 Waveguide | SMA | Male | End Launch (180°) |
| SWC-51KF-E1 | | 15 GHz | 22 GHz | 0.2 dB | - | 50 W | WR-51 Waveguide | K (2.92 mm) | Female | End Launch (180°) |
| SWC-51KM-E1 | | 15 GHz | 22 GHz | 0.2 dB | - | 50 W | WR-51 Waveguide | K (2.92 mm) | Male | End Launch (180°) |
| SWC-62SF-E5 | | 12 GHz | 18 GHz | 0.3 dB | 20 dB | 150 W | WR-62 Waveguide | SMA | Female | End Launch (180°) |
| SWC-62SF-E7-2 | | 12 GHz | 18 GHz | 0.3 dB | 20 dB | 150 W | WR-62 Waveguide | SMA | Female | End Launch (180°) |
| SWC-62SM-E5 | | 12 GHz | 18 GHz | 0.3 dB | 20 dB | 50 W | WR-62 Waveguide | SMA | Male | End Launch (180°) |
| SWC-62SM-E7-2 | | 12 GHz | 18 GHz | 0.3 dB | 20 dB | 150 W | WR-62 Waveguide | SMA | Male | End Launch (180°) |
| SWC-75SF-E5 | | 10 GHz | 15 GHz | 0.3 dB | 20 dB | 150 W | WR-75 Waveguide | SMA | Female | End Launch (180°) |
| SWC-75SF-E7-2 | | 10 GHz | 15 GHz | 0.3 dB | 20 dB | 150 W | WR-75 Waveguide | SMA | Female | End Launch (180°) |
| SWC-75SM-E5 | | 10 GHz | 15 GHz | 0.3 dB | 20 dB | 150 W | WR-75 Waveguide | SMA | Male | End Launch (180°) |
| SWC-75SM-E7-2 | | 10 GHz | 15 GHz | 0.3 dB | 20 dB | 150 W | WR-75 Waveguide | SMA | Male | End Launch (180°) |
| SWC-90SF-E5 | | 8.2 GHz | 12.4 GHz | 0.3 dB | 20 dB | 150 W | WR-90 Waveguide | SMA | Female | End Launch (180°) |
| SWC-90SF-E7-2 | | 8.2 GHz | 12.4 GHz | 0.3 dB | 20 dB | 150 W | WR-90 Waveguide | SMA | Female | End Launch (180°) |
| SWC-90SM-E5 | | 8.2 GHz | 12.4 GHz | 0.3 dB | 20 dB | 150 W | WR-90 Waveguide | SMA | Male | End Launch (180°) |
| SWC-90SM-E7-2 | | 8.2 GHz | 12.4 GHz | 0.3 dB | 20 dB | 150 W | WR-90 Waveguide | SMA | Male | End Launch (180°) |
入力例
マイクロ波デバイス / アンプ / フィルタ / ミキサ / マイクロ波&ミリ波部品 / プロ―プ / 薄膜技術 / 超高速通信
/ マイクロエレクトロニクス / ソフトウェア
お問い合わせからアフターフォローまで一貫して当社にお任せ下さい。