円錐ゲインホーンは、円形または長方形の導波管インターフェースを備えた標準モデルとカスタムモデルの両方で提供されます。
長方形の導波管インターフェースを備えたコニカルゲインホーンは直線偏光のみをサポートできますが、円形の導波管インターフェースを備えたモデルは、より広いアプリケーション向けに水平、垂直、左回りの円、右回りの円偏波などのさまざまな偏波タイプをサポートできます。
リストされているモデルは、完全な導波管帯域で動作し、23 dBの公称ゲイン、12度の標準ハーフパワービーム幅、24 dBの標準サイドローブレベル、および中心周波数での1.15:1 VSWRを提供します。
以下の標準製品は、8.5〜140 GHzの周波数範囲をカバーしています。 ただし、10、15、20、25 dBのゲインを持つ他の周波数と標準モデルも利用できます。

Conical gain horns are offered as both standard and custom models with either a circular or rectangular waveguide interface. While conical gain horns with a rectangular waveguide interface can only support linear polarization, models with a circular waveguide interface can support various polarization types including horizontal, vertical, left-handed circular, and right-handed circular polarization for broader applications. The listed models operate across the full waveguide band and offer 23 dB nominal gain, 12 degrees typical half power beamwidth, a 24 dB typical side lobe level and 1.15:1 VSWR at center frequency. The below standard offering covers the frequency range of 8.5 to 140 GHz. However, other frequencies and standard models with 10, 15, 20 and 25 dB gain are also available.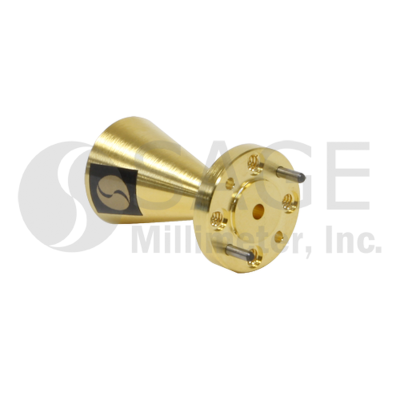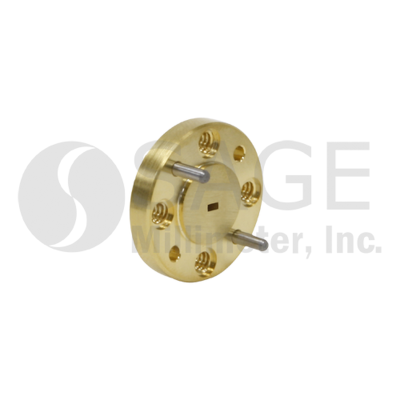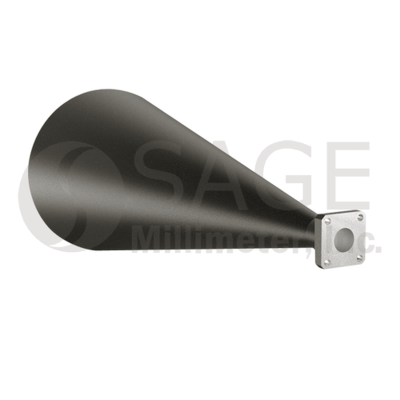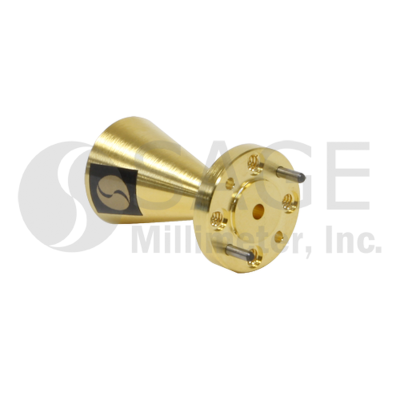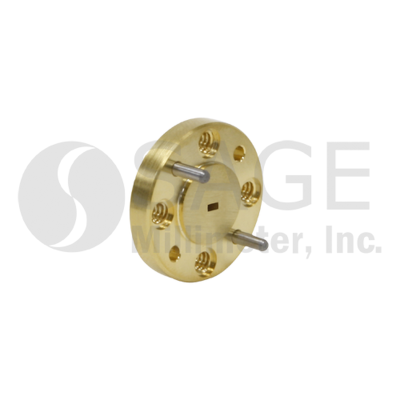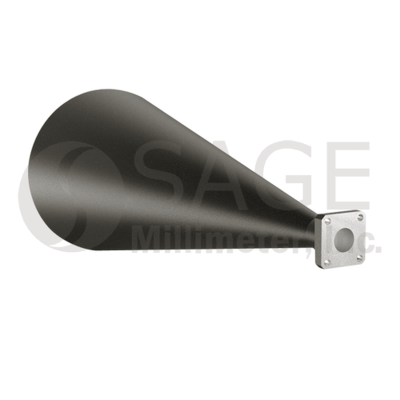 製品仕様 
Product Specifications
| Model | Data sheet | Minimum Frequency [GHz] | Maximum Frequency [GHz] | Gain [dBi] | 3 dB Beamwidth, E-Plane | 3 dB Beamwidth, H-Plane | Return Loss [dB] | Polarization | Antenna Port |
| --- | --- | --- | --- | --- | --- | --- | --- | --- | --- |
| SAC-2507-039-S2 | | 220 | 325 | 25 | 7.5° | 8.5° | 23 | Linear and Circular | 0.039" Dia Circular WG |
| SAC-1532-04-S2 | | 170 | 260 | 15 | 32° | 32° | 15 | Linear | WR-04 Waveguide |
| SAC-1533-075-S2 | | 115 | 140 | 15 | 30° | 36° | 20 | Linear and Circular | 0.075" Dia Circular WG |
| SAC-2012-075-S2 | | 115 | 140 | 20 | 16° | 20° | 20 | Linear and Circular | 0.075" Dia Circular WG |
| SAC-2309-075-S2 | | 115 | 140 | 23 | 11° | 13° | 23 | Linear and Circular | 0.075" Dia Circular WG |
| SAC-2507-075-S2 | | 115 | 140 | 25 | 9° | 10° | 23 | Linear and Circular | 0.075" Dia Circular WG |
| SAC-1533-08-S2 | | 100 | 112 | 15 | 30° | 36° | 23 | Linear | WR-08 Waveguide |
| SAC-1533-082-S2 | | 100 | 112 | 15 | 30° | 36° | 23 | Linear and Circular | 0.082" Dia Circular WG |
| SAC-2012-08-S2 | | 100 | 112 | 20 | 16° | 20° | 23 | Linear | WR-08 Waveguide |
| SAC-2012-082-S2 | | 100 | 112 | 20 | 16° | 20° | 23 | Linear and Circular | 0.082" Dia Circular WG |
| SAC-2309-08-S2 | | 100 | 112 | 23 | 11° | 13° | 23 | Linear | WR-08 Waveguide |
| SAC-2309-082-S2 | | 100 | 112 | 23 | 11° | 13° | 23 | Linear and Circular | 0.082" Dia Circular WG |
| SAC-2507-08-S2 | | 100 | 112 | 25 | 9° | 10° | 23 | Linear | WR-08 Waveguide |
| SAC-2507-082-S2 | | 100 | 112 | 25 | 9° | 10° | 23 | Linear and Circular | 0.082" Dia Circular WG |
| SAC-1533-10-S2 | | 87 | 100 | 15 | 30° | 36° | 23 | Linear | WR-10 Waveguide |
| SAC-1533-094-S2 | | 87 | 100 | 15 | 30° | 36° | 23 | Linear and Circular | 0.094" Dia Circular WG |
| SAC-2012-10-S2 | | 87 | 100 | 20 | 16° | 20° | 23 | Linear | WR-10 Waveguide |
| SAC-2012-094-S2 | | 87 | 100 | 20 | 16° | 20° | 23 | Linear and Circular | 0.094" Dia Circular WG |
| SAC-2309-10-S2 | | 87 | 100 | 23 | 11° | 13° | 23 | Linear | WR-10 Waveguide |
| SAC-2309-094-S2 | | 87 | 100 | 23 | 11° | 13° | 23 | Linear and Circular | 0.094" Dia Circular WG |
| SAC-2507-10-S2 | | 87 | 100 | 25 | 9° | 10° | 23 | Linear | WR-10 Waveguide |
| SAC-2507-094-S2 | | 87 | 100 | 25 | 9° | 10° | 23 | Linear and Circular | 0.094" Dia Circular WG |
| SAC-1533-12-S2 | | 68 | 77 | 15 | 30° | 36° | 23 | Linear | WR-12 Waveguide |
| SAC-1533-110-S2 | | 77 | 87 | 15 | 30° | 36° | 23 | Linear and Circular | 0.110" Dia Circular WG |
| SAC-1533-125-S2 | | 68 | 77 | 15 | 30° | 36° | 23 | Linear and Circular | 0.125" Dia Circular WG |
| SAC-2012-12-S2 | | 68 | 77 | 20 | 16° | 20° | 23 | Linear | WR-12 Waveguide |
| SAC-2012-110-S2 | | 77 | 87 | 20 | 16° | 20° | 23 | Linear and Circular | 0.110" Dia Circular WG |
| SAC-2012-125-S2 | | 68 | 77 | 20 | 16° | 20° | 23 | Linear and Circular | 0.125" Dia Circular WG |
| SAC-2309-12-S2 | | 68 | 77 | 23 | 11° | 13° | 23 | Linear | WR-12 Waveguide |
| SAC-2309-110-S2 | | 77 | 87 | 23 | 11° | 13° | 23 | Linear and Circular | 0.110" Dia Circular WG |
| SAC-2309-125-S2 | | 68 | 77 | 23 | 11° | 13° | 23 | Linear and Circular | 0.125" Dia Circular WG |
| SAC-2507-12-S2 | | 68 | 77 | 25 | 9° | 10° | 23 | Linear | WR-12 Waveguide |
| SAC-2507-110-S2 | | 77 | 87 | 25 | 9° | 10° | 23 | Linear and Circular | 0.110" Dia Circular WG |
| SAC-2507-125-S2 | | 68 | 77 | 25 | 9° | 10° | 23 | Linear and Circular | 0.125" Dia Circular WG |
| SAC-1055-141-S2 | | 58 | 68 | 10 | 49° | 60° | 23 | Linear and Circular | 0.141" Dia Circular WG |
| SAC-1430-141-C2 | | 58 | 68 | 14 | 30° | 30° | 23 | Linear and Circular | 0.141" Dia Circular WG |
| SAC-1533-15-S2 | | 58 | 68 | 15 | 30° | 36° | 23 | Linear | WR-15 Waveguide |
| SAC-1533-141-S2 | | 58 | 68 | 15 | 30° | 36° | 23 | Linear and Circular | 0.141" Dia Circular WG |
| SAC-2012-15-S2 | | 58 | 68 | 20 | 16° | 20° | 23 | Linear | WR-15 Waveguide |
| SAC-2012-141-S2 | | 58 | 68 | 20 | 16° | 20° | 23 | Linear and Circular | 0.141" Dia Circular WG |
| SAC-2309-15-S2 | | 58 | 68 | 23 | 11° | 13° | 23 | Linear | WR-15 Waveguide |
| SAC-2309-141-S2 | | 58 | 68 | 23 | 11° | 13° | 23 | Linear and Circular | 0.141" Dia Circular WG |
| SAC-2507-141-S2 | | 58 | 68 | 25 | 9° | 10° | 23 | Linear and Circular | 0.141" Dia Circular WG |
| SAC-1533-165-S2 | | 50 | 60 | 15 | 30° | 36° | 23 | Linear and Circular | 0.165" Dia Circular WG |
| SAC-1533-188-S2 | | 43 | 50 | 15 | 30° | 36° | 23 | Linear and Circular | 0.188" Dia Circular WG |
| SAC-2012-165-S2 | | 50 | 60 | 20 | 16° | 20° | 23 | Linear and Circular | 0.165" Dia Circular WG |
| SAC-2012-188-S2 | | 43 | 50 | 20 | 16° | 20° | 23 | Linear and Circular | 0.188" Dia Circular WG |
| SAC-2309-165-S2 | | 50 | 60 | 23 | 11° | 13° | 23 | Linear and Circular | 0.165" Dia Circular WG |
| SAC-2309-188-S2 | | 43 | 50 | 23 | 11° | 13° | 23 | Linear and Circular | 0.188" Dia Circular WG |
| SAC-2507-165-S2 | | 50 | 60 | 25 | 9° | 10° | 23 | Linear and Circular | 0.165" Dia Circular WG |
| SAC-2507-188-S2 | | 43 | 50 | 25 | 9° | 10° | 23 | Linear and Circular | 0.188" Dia Circular WG |
| SAC-1533-219-S2 | | 38.5 | 43 | 15 | 30° | 36° | 23 | Linear and Circular | 0.219" Dia Circular WG |
| SAC-2012-219-S2 | | 38.5 | 43 | 20 | 16° | 20° | 23 | Linear and Circular | 0.219" Dia Circular WG |
| SAC-2309-219-S2 | | 38.5 | 43 | 23 | 11° | 13° | 23 | Linear and Circular | 0.219" Dia Circular WG |
| SAC-2507-219-S2 | | 38.5 | 43 | 25 | 9° | 10° | 23 | Linear and Circular | 0.219" Dia Circular WG |
| SAC-1533-250-S2 | | 33 | 38.5 | 15 | 30° | 36° | 23 | Linear and Circular | 0.250" Dia Circular WG |
| SAC-1533-315-S2 | | 26 | 33 | 15 | 30° | 36° | 23 | Linear and Circular | 0.315" Dia Circular WG |
| SAC-2012-250-S2 | | 33 | 38.5 | 20 | 16° | 20° | 23 | Linear and Circular | 0.250" Dia Circular WG |
| SAC-2012-315-S2 | | 26 | 33 | 20 | 16° | 20° | 23 | Linear and Circular | 0.315" Dia Circular WG |
| SAC-2309-28-S2 | | 38.5 | 43 | 23 | 9° | 9° | 20 | Linear | WR-28 Waveguide |
| SAC-2309-250-S2 | | 33 | 38.5 | 23 | 11° | 13° | 23 | Linear and Circular | 0.250" Dia Circular WG |
| SAC-2309-315-S2 | | 26 | 33 | 23 | 11° | 13° | 23 | Linear and Circular | 0.315" Dia Circular WG |
| SAC-2507-250-S2 | | 33 | 38.5 | 25 | 9° | 10° | 23 | Linear and Circular | 0.250" Dia Circular WG |
| SAC-2507-315-S2 | | 26 | 33 | 25 | 9° | 10° | 23 | Linear and Circular | 0.315" Dia Circular WG |
| SAC-1533-328-S2 | | 24 | 26.5 | 15 | 30° | 36° | 23 | Linear and Circular | 0.328" Dia Circular WG |
| SAC-1533-396-S2 | | 20 | 24.5 | 15 | 30° | 36° | 23 | Linear and Circular | 0.396" Dia Circular WG |
| SAC-1533-470-S2 | | 17.5 | 20.5 | 15 | 30° | 36° | 23 | Linear and Circular | 0.470" Dia Circular WG |
| SAC-2012-328-S2 | | 24 | 26.5 | 20 | 16° | 20° | 23 | Linear and Circular | 0.328" Dia Circular WG |
| SAC-2012-396-S2 | | 20 | 24.5 | 20 | 16° | 20° | 23 | Linear and Circular | 0.396" Dia Circular WG |
| SAC-2012-470-S2 | | 17.5 | 20.5 | 20 | 16° | 20° | 23 | Linear and Circular | 0.470" Dia Circular WG |
| SAC-2309-328-S2 | | 24 | 26.5 | 23 | 11° | 13° | 23 | Linear and Circular | 0.328" Dia Circular WG |
| SAC-2309-396-S2 | | 20 | 24.5 | 23 | 11° | 13° | 23 | Linear and Circular | 0.396" Dia Circular WG |
| SAC-2309-594-M2 | | 13.4 | 18 | 23 | 9° | 9° | 21 | Linear and Circular | 0.594" Dia Circular WG |
| SAC-2309-470-S2 | | 17.5 | 20.5 | 23 | 11° | 13° | 23 | Linear and Circular | 0.470" Dia Circular WG |
| SAC-2507-328-S2 | | 24 | 26.5 | 25 | 9° | 10° | 23 | Linear and Circular | 0.328" Dia Circular WG |
| SAC-2507-396-S2 | | 20 | 24.5 | 25 | 9° | 10° | 23 | Linear and Circular | 0.396" Dia Circular WG |
| SAC-2507-470-S2 | | 17.5 | 20.5 | 25 | 8.5° | 10° | 23 | Linear and Circular | 0.470" Dia Circular WG |
| SAC-1626-660-C2 | | 15 | 18 | 17 | 22° | 26.5° | 20 | Linear and Circular | 0.66" Dia Circular WG |
入力例
マイクロ波デバイス / アンプ / フィルタ / ミキサ / マイクロ波&ミリ波部品 / プロ―プ / 薄膜技術 / 超高速通信
/ マイクロエレクトロニクス / ソフトウェア
お問い合わせからアフターフォローまで一貫して当社にお任せ下さい。